Let's Start Walking!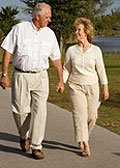 In fact, let's start walking together.
You made it this far and that's a great sign. You're telling us you have the desire. That's the most important first step.
Follow along with our programs and you'll find us right there with you and encouraging you along the way.
Maybe we'll even give you a nudge (or a big push) when needed. Notice we said 'WHEN' not 'IF'. We're 50 Plus'ers too. We know what can happen!
Whether you have aches, pains, walking disabilities, past medical or surgical problems you will find a path to follow to help you walk your way to fitness.
Here's What We'll Do Together
First, A Quick Reality Check

Is your journey to start walking and feel great again always going to be easy? No! Is it a journey worth making? Without a doubt!
Will there be days when it hurts a bit? Absolutely - especially in the beginning! At our age a bit of hurt and achiness comes with the territory. Stick with it though. It gets better each day.
Pay special attention to the cautions and 'going slow' advice in our Fitness Walking Programs - especially as you start out.
The Importance Of Sound Medical Advice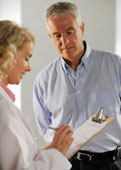 Before you start any new physical activity you should discuss it with your medical professional. She knows your health and fitness situation better than anyone. She also knows the benefits of walking and how it can help you feel great again!
Do share our 50 Plus Fitness Walking website with her as well as our Fitness Walking Programs. Show her what you are planning.
OK. Time To Pick Your Starting Point

You're at your starting line. Assess what you feel is most accurate description of you now. Regardless of where you are at now, you can always benefit. Little baby steps will eventually lead to bigger steps.
And if you're already doing some walking now, we encourage you to start at our Level 1 Fitness Walking Program or our Level 2 Fitness Walking Program.
Summary
You've made a giant step in deciding to start walking. You now have an overview of the whole process and its' main components and you've done own self assessment to pick your starting point. And finally you have checked with your medical professional to get your green light.
Well done. Enjoy your journey to better health and happiness through fitness walking!
Top of Let's Start Walking
---
Share this page with your friends by clicking our "LIKE" button below. Thanks for sharing!
---