Arthritis Foot Pain
& Fitness Walking?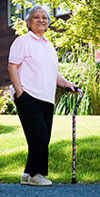 Arthritis foot pain? Fitness walking? How is that even possible with all the pain?
Let's help to ease your pain a bit and allow you to have more fun walking and keeping fit.
First, a few quick facts
Arthritis is a major cause of foot pain - especially if you're over 50. It's the inflammation of the cartilage and the lining of the joints in the foot. It can cause redness as well as extreme pain and swelling. With this kind of pain it's pretty hard to do any kind of walking.

For more detailed information on osteoarthritis, rheumatoid arthritis and other arthritis-related foot diseases/pain you are welcome to read more at Medicine Plus - a service of the

US National Library of Medicine and the National Institute of Health

.You can also find a wealth of information on this topic at our Foot Arthritis Prevention page.
Don't des

pair. The

re is hope.
The goal here is suggest ways you can get out walking with the arthritis foot pain you have in ways that reduce your pain while you are benefiting from walking.
You're probably sitting there thinking -
'It hurts too much. How can I walk?' or

'If I walk it will only hurt more' or

'I can't do any exercise because my arthritis will just get worse'".
Well you're certainly right on one count. 'IT HURTS!' No argument there!
Good News!
What might surprise you though is that some form of exercise will actually make things better! Not doing any exercise will actually make it hurt more. Double ouch!
So where do you start? With your doctor or health professional!
Tell her you want to start walking more. Share our Fitness Walking Programs with her if you wish - especially our Level 1 Fitness Walking Program. You need her guidance to get a gentle exercise program specifically for you and your circumstances. She will know your arthritis foot pain situation better than anyone.
That regular, gentle exercise will help you with range of motion of your joints, improve your mobility, reduce your pain and ease sore, stiff muscles. Most important, it will get you ready to start your own walking program with us.
When you have your personal exercise program in hand (and are actually doing it) you're ready to add a little walking to it. How much depend a whole lot on how severe your condition is and the guidance of your doctor. And of course - YOU!
You can start with our Level 1 Fitness Walking Program. Tailor it to your ability right now. See how it goes for you. In other words GO SLOW!
Do only what you can. Do NOT rush it! When you're ready to walk, please do pay very special attention to ...
Good Arthritis Shoes
You need to get the most comfortable arthritic footwear for your foot condition. Along with comfort, they need to have:
a high, wide toe box - lots of space for the toes

removable insoles for better fit and flexibility

the ability to insert orthotics if needed

rocker soles designed to facilitate walking. Reduces stress and pain on the ball of the foot

soft uppers that will stretch a bit to reduce pressure and accommodate some swelling

have lace or Velcro closures that can be loosened easily if your feet start to swell

uppers made of breathable material (leather, canvas) to help prevent foot ulcers that can lead to infection
Please read Choosing Arthritic Shoes when you want to start walking. You are also welcome to read Choosing Your Best Walkingh Shoes to understand everything you really do need to know when selecting your shoes.
The Importance Of Wearing Proper Arthritis Socks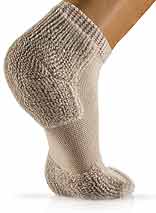 You really do need to wear properly designed arthritis socks. They provide additional foot padding to ease stress, shear and shock forces on your feet.
There's one company we know that does this better than anyone. They've been doing it for over 50 years. Should you suffer from arthritis foot or diabetes foot pain, Thorlo Socks has suggestions and solutions for you as well.
First we recommend you go to this page and read the background information on these specialty socks. Click on the Learn More tab on these pages for complete info.
Thorlos - Beyond Arthritis Socks
Then before you decide to purchase take advantage of the Free Consultation below. 
FREE CONSULTATION You're welcome to consult directly with Susan Graham,  their therapeutic sock specialist in all matters of foot health, foot care, proper sock selection and fit. Susan will take as long as it takes to ensure you're properly cared for - especially for diabetes and arthritis foot conditions.
You can reach Susan directly toll free at:
*800-438-0286, ext 7254, 8-5 EST Mon-Fri.
Email: sugraham@thorlo.com
Be sure to let her know that Yoko & Geoff sent you. 
*NOTE: This is Susan's private, direct line for our visitors and not the public number on their website.
Cover all your bases. Make your walking experience as enjoyable as you can. You'll be able to cope with your arthritis foot pain quite well. Walking, as with your arthritis progress takes place one step at a time!
You can do it!
So In A Nutshell...
Do your part. Take care of your feet and learn more about Foot Arthritis Prevention to avoid painful times.

Learn about the various forms of foot arthritis and how to deal with them. Lessen your pain.

Choose good shoes and socks.

Keep walking and exercising to keep your feet flexible and supple.

Talk to your health professional. She can guide you on getting started.

Consider using walking poles, walkers and canes to help you get walking.

Get together with your neighbours and buddies. You can help one another when things gets rough. You may start by 'sharing the pain' but soon you will be 'sharing the joy' as you each progress and walk greater distances
We'll be cheering for you.

Top of Arthritis Foot Pain & Walking
To Choosing Arthritis Shoes

To Let's Start Walking! |


---
Share this page with your friends by clicking our "LIKE" button below. Thanks for sharing!
---