About Us
So who are we telling you to get up off your 'cabooses' and start walking so you can feel great again?
What makes us think we know anything about this stuff anyway?
Glad you asked.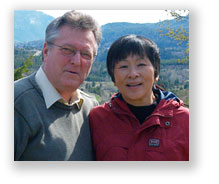 First - Who Are We?
We are Yoko and Geoff. We love to walk. And we love to walk in spite of (or maybe even because of) what we've had to overcome.
Until recently, we lived in the Kootenays in Western Canada. We love mountains.
Then we moved to a small town high in the Andes in Ecuador. More mountains! We just love it here! Truly one of those delicious serendipity moments of life.
We're both 'getting on' with Yoko over 70 and Geoff almost caught up. We both have two wonderful grandkids … and we're 'retired' from our day jobs! Yeah right!
In our case along with our passion for walking, people, discovery and enjoying life's journey, it's also about developing this website to help other people through sharing our passion and life experiences.
Our Web Business page talks more about how it's a really great way to meet new people AND generate income while you sleep.

Our 'Qualifications'
We've both had to overcome past surgeries, major injuries, being stuck with a cast, braces and crutches.
We've overcome these hurdles because of our passion for walking along with great help from various health professionals along the way. Just being able to walk outdoors is a precious gift.

We've also developed a passion for knowledge about feet, foot care, foot wear and fitness walking. Yoko enjoyed helping people when she worked in a great, high end shoe store.
And we enjoyed providing folks with high quality walking shoes with our own online shoe store for several years before we 'retired'. All valuable learning experiences!
Our Passion
Our 'baby' - this website - rose out of our passion for walking and a desire to share that passion with people like you. People over 50 who may have aches and pains and don't walk. People who deserve and want to fully enjoy life and feel great again.
It's truly a labor of love. A work in progress that is really all about helping you much more than it is about us!
We aim to provide you clear, accurate, high quality information in a simple, easy to understand way. Not a lot of techno-babble or academic stuff. Big words have their place...just not on our website!
We scan literally thousands of websites 'all over the place' to gather the really good stuff together in one place for you. 'Good stuff' that works for folks our age. We blend it with our own experience and share it all with you.
When we find really good stuff we don't have room for, we share links to those resources with you. You're encouraged to visit them for more in depth research of your own.
We also refer you to a few high quality people and businesses who sell some of the goods and services we talk about. We screen these folks thoroughly. They must be of the highest quality and integrity before we will refer them to you.
Please read about Our Web Business and learn more about some of our fellow merchants - the wonderful people and the business side of this unique journey.

Top of About Us

Return to Home Page
---
Need To Get In Touch?
Feel free to contact us at our Canadian address:
YG Enterprises
112, 1811 34 AVe SW
Calgary, Alberta T2T 2B9
Canada
Email: plusfitn@50plus-fitness-walking.com
---
Share this page with your friends by clicking our "LIKE" button below. Thanks for sharing!
---