About Us
We are Yoko and Geoff, two 70 somethings that love walking, love helping people benefit from walking and take great joy in seeing you reach your health goals by walking. I guess in the vernacular of the day we might be called avid walking nerds :-)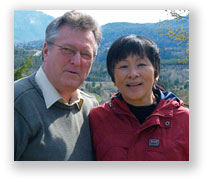 Our Qualifications
Walking has allowed both of us to overcome some rather painful challenges  - torn quad tendon, torn ligaments, broken bones, lower back issues and more. And yes, it is possible to not only recover but go forward from your challenges no matter what your age. 
We feel it is important to us to share what we have learned over the years as we overcame those challenges. Sometimes life can be the best teacher!
To that end we've been seeking out and providing high quality shoe recommendations  online for over 12 years. That journey has brought us in touch with a lot of really knowledgeable people in many of the related aspects of walking and health. Even things you may not think of - like how to tie your shoelaces for different situations, getting the right type of shoe for different times of year and weather, how to use walking poles effectively and more
You can get a better sense of these and many more related topics just by visiting our Finding Your Way page (listed on the left hand column on every page).
About Our New Home
For our long time, faithful supporters you recall that we lived in Ecuador high in the Andes for almost 7 delightful years. 
We have recently returned to Canada and now live on Vancouver Island in the community of Campbell River on the west coast of Canada. 
Some claim that Campbell River is the walking capital of Canada! Given the incredible number of trails and paths through heavy forest, along the sea shore and in between we certainly see that claim proven out every day. And of course walkers being the friendly folks that we are, we see a LOT of really happy people. It is a great atmosphere. No matter where we go in the world, it seem that walkers are always friendly, smiling and share greetings along the trail.
About Our Website - Our Baby
This journey would not have been possible without this website (Our Baby) and the great team of people around the world that are not only are committed to success but to helping each other succeed as well. It is a special joy to create our baby with the help of these many thousands of loving, giving people.
A wonderful side benefit is that we now have developed great friendships with people in many parts of the world. It is a great feeling!
Should you be looking for an opportunity to challenge and express yourself and build a viable business along the way, you are welcome to visit our Our Web Business page for more info.

Top of About Us

Return to Home Page
---
Need To Get In Touch?
Feel free to contact us at our Canadian address:
YG Enterprises
308, 585 S. Dogwood St
Campbell River, BC V9W 6T6
Canada
Email: plusfitn@50plus-fitness-walking.com
---
Share this page with your friends by clicking our "LIKE" button below. Thanks for sharing!
---