Different Walking Styles

A slight change in your walking style can do wonders for your walking enjoyment, enthusiasm and zip!

And as always, check with your health professional before trying these - just to be sure. By this stage in your progress it is more of a formality but good personal management in any case.
NOTE: Try these walking styles with a BIG RED CAUTION FLAG only after you've 'graduated' from our Level 2 Fitness Walking Program or are already enjoying the challenge of our Level 3 Fitness Walking Program.
OK. Time to make your walking experience even more enjoyable and productive. Time for the ...
Fun Stuff!
Nordic Walking
Maybe you've heard of it? Perhaps by it's other name - Nordic Pole Walking. It has been very big in Europe for many years and now is sweeping North America big time.

In a nutshell you walk with nordic walking poles using a modified cross country ski technique. This simple addition brings about 90% of your muscles into play. Simple, smooth and easy with great benefit! (more)
Power Walking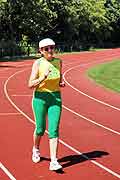 CAUTION: Only the really fit should even think about this one!
Add 'POWER' to your walking and bring all the muscles of your body into play in a big way. Increase your speed, adjust your technique and move to a style that some have called the closest thing to a perfect exercise. (more)

Race Walking
CAUTION: This one too is only for the really fit folks.
Think of this as Power Walking with RULES! Yup, this is a competitive form of walking with two basic rules that make it a whole lot tougher for most of us to master. The good news is the technique can be used at much slower speeds. (more)
Treadmill Walking
This can be a convenient alternative way to get your walk in. Bad weather? Busy schedule? Practice your new walking techniques right at home. Add some inspirational outdoor videos and music to your walk. (more)
Winter Wonderland Walking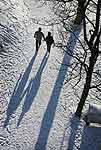 Just think. Walking in a winter wonderland makes your winter months SO MUCH more enjoyable don't you think? Enjoy the stunning beauty of a crisp, fresh winter day ... a day so beautifiul it makes you tear up! Try this one for sure. It is a truly memorable time of year. A very exhilarating walking experence like none other. (Can you tell we're Canadian?) (more)
Walking Meditation
Do you think walking meditation is a walking style? More to the point have you even heard of it before?
Well we were in the latter camp - never even heard of it! We stumbled across it pretty much by accident.
Technically it is not a 'walking style' so much as a mindset and walking lifestyle choice. It has many benefits when you choose to immerse yourself in it. (more)
Summary
Did you get your imagination stirred a bit? Are you ready to 'kick it up a notch' and improve your walking fitness even more. We sure hope so. Enjoy your new journey with enthusiasm!



Top of Different Walking Styles


---
Share this page with your friends by clicking our "LIKE" button below. Thanks for sharing!
---