Great Foot Care
Equals Happy Feet!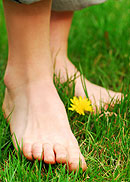 It's as simple as that! Your poor, hard working feet deserve great foot care! You deserve happy feet! And the really good news is that it is so easy and simple to do.

You've heard all the 'foot phrases' before - 'Both feet on the ground', 'Swept off your feet', 'Cold Feet', 'Best foot forward'.
Here's one more ...
'Be Kind To Your Feet!'
Here's the 'good stuff' to help you look after your long suffering feet!
They've been through a lot over the years. They deserve to be pampered big time and all the time!
Choose your path to happy feet. Browse through these. You decide what plan works for you! It's so simple and easy to do.
NOTE: If you are currently dealing with a foot pain issue, please visit our Foot Pain Issues page before going on ... just to be safe!
The Game Plan

Foot Care Tips

Here's the really basic stuff. Stuff often forgotten. Things you can do and should do every day (with your Foot Care)

Foot Bath & Foot Spa

Just these words start to make you feel good don't they? Ever wonder why all the pictures of people getting foot baths were always smiling? (learn all about Foot Bath)

Ionic Foot Bath Detox

The 'New' kid on the block. Not without some controversy but a treatment that deserves a closer read for sure... (more Ionic Foot Bath Detox)

Foot Massage

Even more pleasant thoughts come to mind here. Consider treating yourself to this most wonderful and relaxing pleasure ... (expereince more Foot Massage learning)

Foot Reflexology

Since ancient times, Asian cultures have understood that the foot was the gateway to your personal well-being and health. You can benefit from that wisdom too. (Foot Reflexoloby 101)

Foot Arthritis Prevention

Here are some ideas to help you get happier feet and prevent arthritis as much as possible. (understand foot arthritis preention)

Diabetes Foot Care

You know there are special challenges for diabetes feet issues. Here's some at-home techniques to consider. (for your diabetic foot care)

Natural Foot Care

From the ancient practices of Eastern cultures to current day practitioners, you can care for your feet naturally. Here's a few natural home made ideas for you. (foot care naturally)

Socks

Yes - SOCKS! The most overlooked, neglected item in your walking equipment drawer! Properly designed and fitted socks can do more to help your foot health, foot care and enjoyment of walking. Visit our Thorlo Padded Socks page for more.
Foot Anatomy



Ah. The best for the last! See just how complex your good old feet really are. When you stop and think about it, it's a miracle we can walk at all!

(more)
Summary

There you have it. Some tools to give your feet the best care you can and enjoy the benefits of really happy feet. Enjoy your walk to fitness in comfort.
Now that your your are happy there's just one more piece to this puzzle - what you put ON them!

Check out this MUST KNOW stuff when Choosing Your Best Walking Shoes.



Top Of Great Foot Care


---
Share this page with your friends by clicking our "LIKE" button below. Thanks for sharing!
---