Our Web Business, Our 'Baby'
Ah yes. Our web business. It truly is our 'baby'. Here's why.
Have you ever wondered what would happen IF?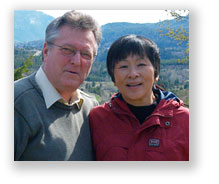 ... IF something changed your life completely?
... IF something took you totally out of your comfort zone? (OK - maybe for some of us. it might be a rut!)
... IF something happened that led you to do things you had never dreamt possible?
Well - that's what happened to us...
... 7 years ago!
Mid sixties. Sort of comfortable. Sort of retired. Living day to day (pension cheque to pension cheque actually). Sort of close to family and friends (at least in the same country). Sort of enduring Canadian winters and struggling with our very first website. Huge work, little reward, no support.
So we started to look for a way with a much more likely and demonstrable way to success.

It was painful trying to decide which way to go, sifting through all the 'noise' on the web. There's literally thousands of GRQ's out there (Get Rich Quick schemes) but at the end of the day NONE OF THEM WORK! The only people getting rich are the people flogging them!
We've all been around long enough to know there are no short cuts to success.
We needed to avoid our 'first time' mistakes, disappointment, wasted time and money. We needed to look for a way we could succeed, be totally on our own and have all the great tools and support system when we needed it.
SBI - 312,000 People Strong & Growing Daily!
Learn why here at our Site Sell Community Facebook page.
We hope you find it as energizing as we do!
Eureka!
We found it! A serendipity moment. Pretty much out of the blue we came upon this company called SBI (Site Build It!). Amazingly, it seemed to answer all of our needs for developing and managing a successful web business.
Being our usual cautious and questioning selves though we did some investigating - for almost a year! (is that a bit cautious?)
Try as hard as we could over that time, we couldn't find ANY weaknesses in SBI. There's so many great things about it you keep thinking 'this can't be real. It sounds too good to be true'. You sort of get suspicious of sales hype and hyperbole.
But darned if they don't back up everything they say with hard, cold facts, evidence and many real, live successful merchants we could contact. Literally hundreds of merchants, not the usual token 3-5 party line types.

We were to say the least - very impressed!
So, at the end of that time we took a deep breath, put our money on the line and started down this path.To be clear, the cost amounts to less than $1 a day and that price has never changed.
This despite the fact that they now provide about five times the tools and services that they did when we started. It has just got to be the totally best bargain of bargains we've ever found.
And gosh darn, they over deliver on every front. Even six years later we're still discovering more new, great stuff as we go down this path and …
What a path it is!
Now we've relocated to Ecuador from Western Canada, (see our About Us page for that story!), discovered an incredible new life, new friends, new experiences and new opportunities. Totally WAY out of our comfort zone. All because of our wonderful web business and the truly global and welcoming family of SBI.
Life has truly become fun again. Every day is a new journey, a new discovery. We're re-energized and excited about everything in our lives. We really love the benefits of being entrepreneurs, in control of our own destiny.
In fact we feel it's about the best way to 'retire'. A super way to cope with these 'most interesting times' and the current global financial mess.
It's exhilarating to have our own web business where we're part of a global community of 45,000+ fellow web merchants - all committed to helping each other succeed. That's right. Everyone reaches out to help each other. We've never seen anything quite like this anywhere before. SBI has truly changed our lives!
SBI - 312,000 People Strong & Growing Daily!
Learn why here at our Site Sell Community Facebook page.
We hope you find it as energizing as we do!
And for an added bonus ...
- we get to know some pretty great people with some super websites - over 300,000 of them! Great info, ideas, inspiration and networking. Here's a small sample.
How neat is this? If we want to go to Spain, we just get in touch with our fellow merchants Jim and Fiona in Tuscany, or Luisa in Puerto Rico or B.Bradtke in Australia. Instant help from friendly faces with a common bond (who just happen to know the best deals, secret places and unique experiences in their part of the world. Traveling in a new country is just so much more rewarding when you know people who live there.
Sharing
Sharing our passion for walking and being able to help you overcome challenges would not have happened without this incredible global SBI community. You owe it to yourself to at least take a look. Even if it takes you a year to decide like us, we're pretty sure you'll never look back.

Needless to say we love where we're at in life now because of our web business and SBI. We are overjoyed to be able to share this experience with you. You are invited to click on the links on this page to see why. Perhaps there's an opportunity waiting for you than can change your life.
SBI - 312,000 People Strong & Growing Daily!
Learn why here at our Site Sell Community Facebook page.
We hope you find it as energizing as we do!
Top Of Our Web Business, Our 'Baby'
---
Share this page with your friends by clicking our "LIKE" button below. Thanks for sharing!
---