Walking With Diabetic Foot Pain
Diabetic foot pain is very painful and all too common in folks with diabetes. No surprise there!
You probably don't have an enjoyable walk on the top of your 'To Do' list because of that pain.
You probably also know that diabetes can develop from a lack of insulin production in your body (Type 1 - hereditary) or isn't used well by your body coupled  with low insulin production. (Type 2 - adult onset typically in the obese).
You may also be asking yourself about now 'What are these guys talking about? My feet hurt like blazes. How can I walk on them at all let alone feel better?' Well...
Did You Know That...
...WALKING is very beneficial for folks with diabetic foot pain in some very special ways. Check these out:
Walking improves your glucose level. Exercise helps your muscles absorb blood sugar and helps prevent it from building up in the bloodstream.

Walking gives you better cardiovascular fitness and health. A very important benefit because diabetics are at increased risk of heart disease. Better heart health equals better risk management.

Walking helps you control your weight. You burn calories. You lose weight. You reduce your health risk. You feel much better!
Isn't that great news? And more fun to think about than all that diabetic foot pain?
Just one more important step. Any ideas? You got it!
See Your Health Care Provider!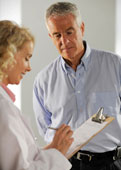 Yup! No surprise here. It's really important you get the 'All Clear' from your doctor before you start any new exercise program. You need to know if it's OK to increase your activity level. Share our program with her if you wish.
With so many variations in diabetes - foot pain being just one of them - you need to see the professionals! She will let you know if there's any special precautions that apply to you. 
Next Step
OK. You're back from your doctor. You've received good directions on your exercise program and how to care for your feet. You were also likely briefed on issues related to Neuropathy and poor circulation in your feet.
You've also learned how important it is to care for your feet on a daily basis. Preventing complications is essential. See our Diabetes Foot Care section for more in depth info. 
You're also welcome to download this excellent article on Diabetes Foot Pain by Dr. Kenneth B. Rehm, DPM.
(Used with permission of the National Federation Of The Blind)
Two more 'let's do it' things:
Walking is one of the best exercises for improving your circulation and keeping fresh blood flowing to your feet. That alone has tremendous benefit for you - faster healing of sores and lessening the frequency of those sores and calluses

Comfortable, properly fitted footwear and socks are essential in combating diabetic foot pain when you walk. 
For you to enjoy walking when you have very sore feet, we need to reduce that pain as much as we can! So let's look at the last two pieces of the puzzle...
Comfortable, Well Fitting Diabetic Shoes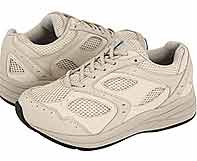 First the shoes. Proper shoe fit, materials and orthotic design are the keys. The impact of doing this right can be huge in managing your foot pain as you walk.
Here are some important features to look for in your diabetic walking shoes.
High, wide toe box (high and wide space in the toe area).

Removable insoles for fitting flexibility.

Option to insert orthotics if necessary.

Rocker soles designed to reduce pressure in the areas of the foot most susceptible to pain, most notably the ball of the foot.

Firm heel counters for support and stability.
Read how to Choose Diabetic Walking Shoes Wisely for more.
Proper, Well Fitting Diabetic Socks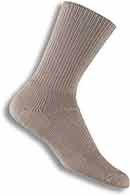 Yes there are such things as diabetic socks as well as socks that have a lot of similar characteristics. 
Socks that do not chafe, have little shear force, have padding where you need padding and a design that does not constrain blood circulation. 
Should you suffer from diabetes foot, Thorlo has suggestions and possible solutions for you as well.
First we recommend you read the background information on these specialty socks. Click on the Learn More tab on these pages for complete info.
Thorlos - Beyond Diabetic Socks
Then before you decide to purchase, take advantage of the Free Consultation below. 
FREE CONSULTATION 
You're welcome to consult directly with Susan Graham,  their therapeutic sock specialist in all matters of foot health, foot care, proper sock selection and fit. Susan will take as long as it takes to ensure you're properly cared for - especially for diabetes and arthritis foot conditions.
You can reach Susan directly toll free at:
*800-438-0286, ext 7254, 8-5 EST Mon-Fri.
Email: sugraham@thorlo.com
Be sure to let her know that Yoko & Geoff sent you. 
*NOTE: This is Susan's private, direct line for our visitors and not the public number on their website.
A Bit About Foot Orthotics
For starters, we suggest you visit our Foot Orthotics page. You will soon find that we are not huge fans of these. Here is an article published in the New York Times that backs up some of our concerns. It's called 
Close Look at Orthotics Raises a Welter of Doubts
Unsure About What To Do?
If you are uncomfortable picking the best shoe for you consider seeing a podiatrist, pedorthotist or orthotist (big words for guys that specialize in orthotics and special foot issues like diabetic foot pain). They can be really helpful people to know! Check online for local resources by Googling a phrase like "pedorthists Cinncinnati" etc. 
Going Forward
So you have:
The all clear from your health professional.

Some appropriate exercises to start with.

You're doing those exercises! Right?

You're looking after your feet very diligently on a daily basis.

You've found great shoes and socks that feel great and are very comfortable. (Check out 

Choosing Your Best Walking Shoes

 if you haven't done so yet!)
Now when you feel you're ready, ease into our Level 1 Fitness Walking Program program. Go very slowly and gently with it. Do a little bit more each day when you're ready. Remember to be very diligent with your daily foot care all along the way.
Congratulations! You've done all that you can do to overcome as much of your diabetic foot pain as possible. Enjoy your journey! We're pulling for you.
Top Of Walking With Diabetic Foot Pain 

Return To Let's Start Walking! 

Return To Home Page 
---
Share this page with your friends by clicking our "LIKE" button below. Thanks for sharing!
---