Diabetic Walking Shoes
... Choose them Wisely
Ahh, the conundrum ... diabetes, walking, diabetic walking shoes. And you really want to enjoy walking.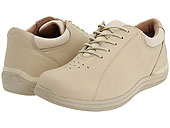 How do you choose the right shoes? Is fitness walking even a possibility for you?
The short answer is - 'Maybe' with the odd 'IF' thrown in for good measure.


The first 'IF'
If you take the time to do some thorough research and know the details of what to look for in your diabetic walking shoes and diabetic socks, your likelihood of success is high.
WARNING This page has a LOT of information and is a bit long. Take your time. Read it all. Your feet will be the better for it as you walk. 
Before we go any further, have you visited Diabetic Foot Pain and Walking? That is excellent background material. 

Where To Start
First, see your doctor or foot health professional who specializes in diabetic foot care. Your foot care is just too important to 'wing it'. Tell her your plans. See what precautions she suggests.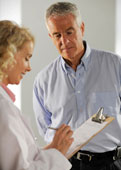 Does she advise walking knowing your condition? Does she suggest other factors along with ours?
You know that with diabetes, you are at greater risk of having foot problems. You know that it can lead to foot health complications.
When you choose the right diabetic walking shoes now, they can go a long way to help prevent those problems...even if your feet don't hurt right now.
Look For Shoes That...
Relieve the pressure on your feet.
Fit your foot shape.
Your foot shape can change with some conditions such as hammer toes, loss of fatty tissue, even loss of a toe.

Matching your foot shape to your shoe shape can help reduce further damage and pain. 



Reduce foot shock and sideways foot movement
You want diabetic walking shoes that minimize the downward shock pressure on the bottom of your feet. Good insole cushioning and properly padded socks can help a lot here. (More on these specialty socks later).




The diabetic walking shoe should also minimize lateral or 'shear' movement in the shoe to prevent blistering and sores. There's a fine line between a shoe that is snug enough to prevent this motion and still not so snug it can cause pressure or circulation problems. Properly designed diabetes socks help reduce 'shear' forces also.



Help limit the motion of foot joints.
When you limit the movement of some joints in the feet you can relieve pain, reduce swelling and help make your feet more functional and stable. This is best done with the help of your foot specialist.



Make sure they feel right on your feet.
The size marked on the shoe is less important than how they feel on your feet.

Size can vary by style, between manufacturers and country of origin.

You need enough room in the toe area (wiggle room), across the balls of your feet (widest part) and over the instep (shoe upper).

A good heel fit that is snug but not too tight is important. Your shoe control comes both from the heel fit and some snugness over the top rear of the foot (lacing). (See our shoe lacing page for more details here).

Make sure there's enough width for the widest part of your foot. The balls of your feet (base of your toes) need to fit comfortably into the widest part of the shoe.

Shoe length should be about 3/8-1/2" longer than your longest toe. You want toe room freedom here. Not a snug toe fit.
Have good lacing control options
You want diabetic walking shoes with enough eyelets to use various lacing options. More is good here!

With more eyelets (at least 7 is great) you can control and adjust the fit of your diabetic walking shoes quite a bit. Just by changing what parts of the upper are snug over what part of your foot.

Again, you can learn more here on our

Shoe Lacing Tips

page.



---
The Importance Of Wearing Proper Socks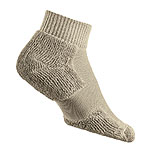 You really do need to wear socks that are properly designed to provide additional foot padding to ease stress, shear and shock forces on your feet. Ideally you should be looking for therapeutic socks designed specifically for diabetes foot issues.
There's one company we know that has been doing that for over 50 years - Thorlos Socks.  
Should you suffer from diabetes foot, Thorlos Socks has suggestions and possible solutions for you as well.
We recommend you start on this page and read the background information on these specialty socks. (Click on the Learn More tab). 
Thorlos - Beyond Diabetic Socks
Then before you decide to purchase take advantage of the Free Consultation below. 
FREE CONSULTATION 
You're welcome to consult directly with Susan Graham,  their therapeutic sock specialist in all matters of foot health, foot care, proper sock selection and fit. Susan will take as long as it takes to ensure you're properly cared for - especially for diabetes and arthritis foot conditions.
You can reach Susan directly toll free at:
*800-438-0286, ext 7254, 8-5 EST Mon-Fri.
Email: sugraham@thorlo.com
Be sure to let her know that Yoko & Geoff sent you. 
*NOTE: This is Susan's private, direct line for our visitors and not the public number on their website.
You are also welcome to visit their non-profit website called Institute For Preventive Foot Health for much more info on foot care.
---
Our Best Diabetic Shoe Recommendations
Drew Shoes is one of the oldest, most highly regarded maker of reputable arthritic and diabetes* walking shoes. They put over 135 years of experience in to each shoe. Their shoes consistently score very high marks with their customers.
* You'll often see these type of shoes referred to as Arthritis Shoe, Diabetes Shoes or Therapeutic Walking Shoes'. They are to all intents and purposes the same. There's a high degree of similarity in the two foot problems. Even manufacturers use the terms interchangeably. 
Special Features For Our Shoes.com Customers
INTERNATIONAL SHIPPING to 45 countries on orders over $100

Free Shipping & Free Returns within the USA.
Do You Need A Pedorthist?
Huh? What is a pedorthist you say? A pedorthist is a board-certified professional who is trained in the proper assessment, design, manufacture, fit and modification of foot wear and foot appliances.
Do you have a history of foot ulcers, changes in your foot structure or numbness in your feet (called neuropathy)? If so you should have your shoes fitted by a pedorthist.
Folks who have lost feeling in their feet have a tendency to buy diabetic shoes that are too tight. It might 'feel' right to them because they needed more 'snugness' to make them 'feel' normal. In reality they are over compensating because of that numbness. The result? Shoes that are likely too small and too tight. They very likely will cause problems
Do You Need Specialized Shoes?
You have diabetes feet. You know that you can have many different things that are unique and challenging with your feet. You may need to have specialized shoes prescribed by a doctor who specializes in diabetic foot issues. Here's a mini-glossary of some of the prescription foot wear available to you.
Healing shoes
In-depth shoes
...are the basis for most foot wear prescriptions. They tend to be an athletic or oxford type of shoe with extra depth throughout the shoe - usually 1/4-1/2".

They have extra room to allow for changes in the foot common to folks with diabetic feet and for insertion of orthotics - removable insoles to relieve pressure and absorb shock.

Tend to be lightweight, available in a wide range of shapes and sizes and have shock absorbing soles.
External shoe modifications
...can be made to the outside of the shoe too. Change the shape or the sole or add shock absorbing or stabilizing materials.
Orthotic inserts
Available both as

pre-made orthotics

or custom made inserts prescribed for folks with diabetic feet.

You can also get something called a "total contact orthosis". This is a fancy term for something made from a mold of your foot that can give you a high level of comfort and pressure relief.
Custom made shoes
... are an option in only very rare cases for the extremely hard-to-fit feet. Made from a custom mold or cast of your foot.

You can usually fit even these type of feet just with major modifications of the In-depth Shoe we just talked about.
In some cases you may need to consider having custom diabetic walking shoes made. You may not be able to find a proper fit for your feet. In this case you should consider seeing a doctor who specializes in diabetic feet issues or a pedorthist.

A pedorthist is a board-certified professional who is trained in the proper assessment, design, manufacture, fit and modification of foot wear and foot appliances.

These links may help you find someone in your area.
Pedorthist Association of Canada
Pedorthhists Footcare Assocition (US)
Next Steps

You've checked out your diabetic shoe needs with your doctor, pedorthist or diabetic foot wear professional. You have been able to get good diabetic shoes that work best for you.
Now you're ready to try a little walking. Good work. That's just great stuff!
You can start at Let's Start Walking or you can go straight to our Fitness Walking Programs. Your choice.

Top of Diabetic Walking Shoes
Return To Pick The Right Shoe Type

---
Share this page with your friends by clicking our "LIKE" button below. Thanks for sharing!
---