Couch Potato?
OK - how serious a couch potato are you?
gold medallist?
contender?
couch potato wannabe?
Well - GREAT NEWS!
We've got solutions for all types!
The simple fact you're reading this is a really great sign! You're saying right out loud that you have clear potential to be a gold medallist in your personal health and happiness!
We Understand That ...
.... you're a pretty astute, reasonable person. Got a good head on your shoulders. So we won't bore you with 100's of inspirational quotes or beat you over the head with 1000's of statistics.
Heck, we won't even threaten to show pictures of you naked to your high school reunion classmates. We're not going to do that. Promise.
We're not going to repeat the obvious. All that stuff about couchies and ill health, pain, heart disease, Type 2 diabetes, sore joints, bad knees, painful hips, sore feet, not living long enough to see your grandkids graduate. No, we won't repeat any of that either.
You won't even be burdened with the high personal health cost of runaway obesity in our society today. Or the impact on your body and quality of life. You've heard and seen all this stuff already so why repeat it?
On the other hand ... well, you've still sorta been stuck on the old couch haven't you!

So let's get your old caboose up off that couch and make today ...
The next great day of the rest of your life!
You've taken the first step already. You're ready to get up off that couch. That's HUGE and it's the toughest step.
We've done it*. You can too!
(*We're straddling 70 and have overcome knee surgeries, leg problems, foot problems and couch'itis to enjoy much better health and fitness through walking. We feel great!)
Besides. you brush your teeth every day, don't you? Just add a little walking to your daily routine! Think of it as teeth brushing for your health!
So all you need to do is take......
The Next Step!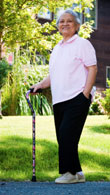 Just visit our Fitness Walking Programs page. Decide what level is best for you now.
HINT: If you're one of those gold medal couch potatoes we talked about earlier, why not start with our Level 1 Fitness Walking Program.
Take it real easy. Take your time. Please remember this is a journey, not a one day event!
If you want a little more comfort and encouragement, you can always start on our Let's Start Walking page.
Keep your eye on the prize though. You're taking steps (sorry - couldn't resist!) to become a gold medal winner in the game of your life - literally! You're winning back your personal health and happiness!
Whenever the SLIGHTEST doubt creeps in and the allure of your past 'accomplishments' as a champion couch potato sneak up on you - just read over the Benefits of Walking.
You're worth it and you can do it. We know you can!
Return to Let's Start Walking!
---
Share this page with your friends by clicking our "LIKE" button below. Thanks for sharing!
---