Daily Motivation Required?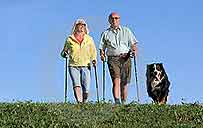 Are you the type of person who needs some daily motivation to get you going? Maybe help get you started on your fitness walking journey?


Great! You're in the right place. Walking is what we do.

First The 'Starting' Part
Let's take another leap of faith and assume the 'Starting' part won't be as hard as the 'Keeping Going' part.
Something new and different is sort of exciting and energizing. The 'newness' usually keeps you going for the first few days at least! Right?
Besides you've already started. You're here! In that case just jump straight into our Fitness Walking Programs.
Hmmm - not quite enough for you? Then take a quick peek at the Benefits of Walking. Did that do if for you? Sure hope so. There's some pretty powerful info there.
Still a lingering thread holding you down? Maybe you secretly still want to be a Couch Potatoe.
OK. Enough already. We're going to assume by now that you're keen enough to have gotten up off the couch. so let's move on to the
The 'Keeping Going' Part
This is wear you get to 'show your stuff'. These ideas can help with your daily motivation. Do your own 'mix 'n match' recipe for your own personal success.
Walk just for today. Just get out and do a little bit.

Walk with your dog. She loves getting outside too. Watch how happy she is. Don't you feel good when your dog is happy?
You want to feel the sun on your face, the wind in your hair, the sights and sounds of nature.




Observe your surroundings. See when the leaves come out on your favorite tree, how Myrtle's new shrub is doing, when George starts to paint his fence.




See the happy faces of other walkers. Walkers are happy people. Exchange your 'hi's' and smiles. Feels great.

Keep track of your walks. Use a walking journal or favourite mobile device to help you out.




Review your performance and pat yourself on the back. Remember why you are doing this.
Add your own ideas to this list. What other things do you see, do, feel and hear on your walks? What excites you? Makes you anxious to get out tomorrow?
More Great Ideas From The Experts

Here's a few more great daily motivation ideas we've pulled together from several recognized authorities in the field.
Have a real interest in what you're doing. You're doing it for reasons that is important to you. That matters
Keep a positive attitude. It's hard to be depressed and motivated at the same time. You positively want better health and fitness.
Share your plans with someone. More motivation to keep your word!
Do one small part at a time. Look only in front of you, not too far down the road.
Have energy. Getting exercise gives you more energy to do more exercise and get more fit. A beautiful circle of benefit!
Stop thinking! JUST DO IT!
Help others! Share with others. Seeing them get excited and motivated has a great way of getting you motivated too.
Please Help Us
Please tell us below in the 'Comments' area. Tell us if this page has helped. Give us your suggestions you would like to make to improve it. Feel free also to Share It with your friends either in the Share box below or on those funny buttons on the side of the age that move with the page.
Thanks so much!


Top of Daily Motivation Required!

Back to Let's Start Walking!

To Fitness Walking Programs
---
Share this page with your friends by clicking our "LIKE" button below. Thanks for sharing!
---