Walking Sandals
Yup. Walking sandals.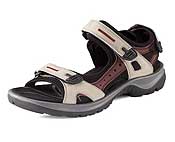 As in 'sandals designed for exercise walking'.
Well OK. You can use them for regular walking too! And beach walking, walking around water. Very versatile!
They've moved way beyond being a fashion accessory. Not just for keeping your feet cool as you flop about looking gorgeous any more darling!
They've changed. Changed for the better. Highly functional, great foot support, great looking, comfortable and...fun!
In fact you want to make sure you're looking for sandals that are made for walking and exercise rather than fashion or dress sandals. They should look more like the pictures here. Look like they 'mean business'!
Many sandals now are made for energetic exercise. They are made with the same care and attention to technology and performance details as the best walking shoes, hiking boots and athletic shoes. They just happen to be cooler and lighter.
You can find sandals with adjustable velcro straps, buckle straps and secure fit strap design. (A major part of enjoyable walking is having a good, snug or secure fit around your heel and upper foot. This lets you to control foot and shoe motion well and still have ample toe wiggle room).
Some of the better sandals have separate adjustments for heel feet, over foot fit and over toe fit. Total fine tuning to your foot. We've admitted to our biases earlier and do love the ECCO and Keen sandals. Keen in particular has the separate adjustment controls on a number of their models.
Many quality walking and sport sandals are available with removable footbeds (metatomical, anatomical and orthotic replacements give you a lot of scope to get the right fit for you here.
Remember to check the outsole for type of material and type of traction. If you are going to be around water a lot, look for a non-slip sole (see Water Shoes for more).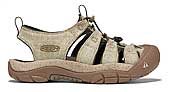 Sandal style shoes pop up under several categories these days. You may have to dig a little deeper to find some features. Look in the 'walking shoes' area. You can also find them in the more 'rugged' activity areas in sport shoes. Look in the trail hiking, trail running and multi sport shoe areas for starters.
They can pretty well all be used 'just' for walking too! Keep in mind the core factors though at all times - pronation control, replaceable foot beds or insoles, sole flexion point matched to the ball of your foot (see Shoe Types - The Big Picture for more)
Need specialized walking sandals for diabetic foot and arthritic foot? You might want to try some of these sandals before going the custom shoe route. Look for the easily adjustable types with the separate heel, foot and toe adjustment areas. Look for the other things you need too - extra cushioning, softer uppers, velcro strapping. Try them out.
You can find walking sandals with more neat stuff in the 'sportier' area of the stores. Look for features like more foot support for rugged terrain, better toe protection to protect from toe stubbing, multi-directional lug patterns with razor siping enhanced traction soles!
Whoa. Maybe a little too technie there. Sorry!
In plain English that means you get good traction going in different directions with your feet - sideways, at angles, up and down bumps and hills when you're walking or hiking. Siping is a series of fine cuts in the outsole material that helps adhesion on wet or muddy surfaces. Just exactly like they do on winter tires for cars to give better ice and snow traction!
Bottom line? You can find walking sandals for just about any type of walking you can think of. Just figure out how you want to use them and pick the right ones for the job! Your fitness walking will get better and more enjoyable with each step!
Did we answer your questions? Is there more information you would like to see us add on this page? Please do Contact Us and let us know. Help us make your experience here as complete as possible!
To Top of Walking Sandals
Return to Pick Just The Right Type of Shoe 

Return to Choosing Your Best Walking Shoes 
---
Share this page with your friends by clicking our "LIKE" button below. Thanks for sharing!
---