Performance Shoes


Including Athletic, Trail,
Multi-sport & Water Shoes
Here's a brief overview of the main types of performance shoes we suggest you check out, as you look for your best walking shoes. We suggest you focus on these rather than running shoes, tennis shoes, basketball shoes and similar. They're specialized for different types of activity.
---
Ready To Shop? Check This Out First.
Shoes.com Time & Money Saving Tips
---
Athletic Walking Shoes
... are a type of performance shoes that can provide good support for more active types of walking and running over a lot of different terrain.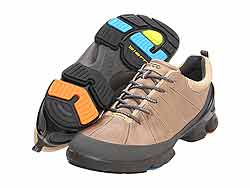 You have the choice of waterproof and breathable uppers, insulated liners and removable footbeds. Match your walking and time of year quite easily.
Do pay attention to the sole stiffness, type and flexing for the type of walking you want to do.
Trail Running Shoes
...tend to be used by those young gazelles that like bounding through the forest, dirt trails, up and down hills. If you're pretty agile and like to a more challenging workout in tougher terrain these might be good for you.
You can choose shoes  with great features that might appeal to you. Toe guard for added protection. Dual density midsoles. Lugged, dual carbon outsoles that give you both superior traction and support.
Interchangeable insoles are standard in quality shoes here.
Multi-sport Shoes
Want to do a variety of walking in different conditions or use them for different purposes? You might look into these types of performance shoes. 
Multi-sport shoes tend to be quite comfortable with more support than say a tennis shoe but much less than a hiking shoe or boot. Durability on multiple 'playing fields' is not always a given.
In a nutshell they are a 'compromise' design. They may do a bit of many things OK but none of them as well as shoes designed for a specific activity. When you buy a shoe designed specifically for one activity you know that the designers have built it to do that job very, very well.
You have to decide if you want to try this route. We love the results of a shoe designed specifically for walking to walk and for hiking to hike.
Water Shoes
"Water shoes? What the heck are water shoes? Never heard of them. If I'm going to the water I'm not usually thinking of choosing shoes. After all..it's water!"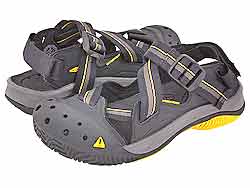 These guys are made for working and playing around boats and boat decks, beach activities and play areas that have water! The better ones have special toe protection to keep from stubbing your toe as you work or play.
In fact the built-in toe protection idea was developed by Keen Shoes because the founder was a sailor who got tired of stubbing his toes around his boat.
These guys can also have removable insoles again to tailor them to your feet. They usually have a rubber sole for a non-slip grip. Look for those that stand up to salt water if that's where you're going to play!
Needless to say these guys are washable too! Very comfortable and practical, if you plan on doing a fair bit of walking and playing along the beaches too.
Help Us!
Did we answer your questions? Is there more information you would like to see us add on this page? Please do Contact Us and let us know. Help us make your experience here as complete as possible!
Top of Performance Shoes
Back to Pick Just The Right Shoe Type 

Return to Choosing Your Best Walking Shoes 



---
Share this page with your friends by clicking our "LIKE" button below. Thanks for sharing!
---