The Best Hiking Boot
& Shoe For You
Are you ready to find the best hiking boot for you?
Great. Let's get started!
You need to consider a few different things when you choose your best hiking boot. Hiking by definition takes you 'off the beaten path' some of the time.
You're going to be traveling over more rugged ground. You'll encounter mud, gravel, water, rough rock and more. Common sense says you're going to need some tougher footwear for a tougher job.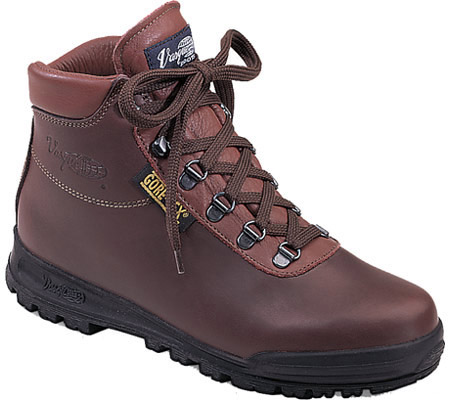 Your best hiking boot or shoe is designed for this kind of work! More ankle support, more rugged materials, breathable and waterproof uppers, a stiffer sole to help get a good toe grip and more. (Too flexible a sole and toe bend and you could end up going down rather than up that little hill!) 
Here's some more features to look for:
Upper - Man made material or leather? Waterproof? Breathable? 

Good ankle support to prevent injury? 

More ankle support comes with a mid or high cut boot. Rougher ground has the potential for some ankle twisting and spraining wihtout that support

Does the lining help wick moisture? Does it dries quickly (at the end of a long day's hike?)

Is the midsole molded EVA or equivalent for best  support, cushioning and comfort?

Does the outsole provide good traction for safety, long wearing? Vibram or equivalent?

Does the footbed provide cushioning and support for comfort and control?

Does the boot have added warmth for spring and autumn hikes or climbing in mountains? 
Don't get fooled. Even in summer your best hiking boot or shoe might need to be waterproof and a bit warmer. As an example Yoko had to abandon a summer hike in the mountains because she ran into too much deep, wet snow higher up!*
Make sure you're properly prepared for hikes like this - especially if you hike in the mountains!
(*She was wearing the same pair of leather Vasque boots she's had for over 25 years. They still performed fine in the snow too!)
Light Weight Hiking Boots & Shoes
You can also choose light weight hiking boots and shoes for some hiking too. It's similar to choosing shoes for regular hiking with some exceptions.

Your best lightweight hiking boot or shoe is ideal if you're just going on a shorter day hike, not getting into too much goopy stuff or really rugged ground.
Perfect for those 'Hey, weather's great. Let's go for a walk in the woods for a couple of hours' type of day. 
Then, you want a comfortable boot, but not as heavy or rugged full hiking boot but with many of the same support and traction features.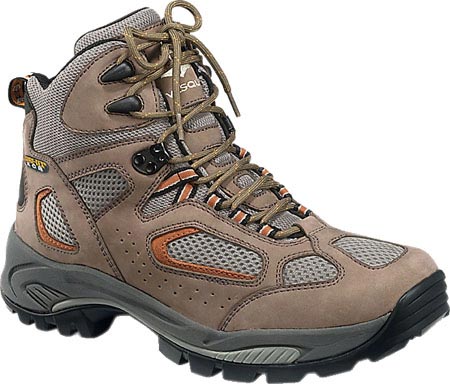 These can also be quite a bit lighter with a more ventilated upper. An added bonus is you can get great shoes here that are either mid cut or low cut. You decide what type of hiking or walking you're going to do with them and how much ankle support you need.
Our Preferences
Our experience leads us to buy the Vasque Hiking Boots line as our best hiking boot. Not the most well known name but an offshoot of the very venerable Red Wing Shoes family. They also make mens and womens wide hiking boots, extra narrow hiking boots and ovesize boots in some models, You may have to ask a knowledgeable clerk. Or get in touch with us if you're having trouble finding them.
Other very reputable brands are the Keen Hiking Boots (Geoff moves between his Vasque and Keen Hiking Boots all the time), Montrall Hiking Boots,  and Salomon Hiking Shoes. Very high quality boots that will work very well for you. 
Get the most out of shopping online at the above links by first having a look at our Shoes.com Buying Hints & Tips. You will save a lot of time and find the best bargains that way. 
To Top of The Best Hiking Boot
Back to Pick Just The Right Shoe Type
Return to Choosing Your Best Walking Shoes 
 


---
Share this page with your friends by clicking our "LIKE" button below. Thanks for sharing!
---