Walking My New Passion
by Martina Jackson
(British Virgin Islands)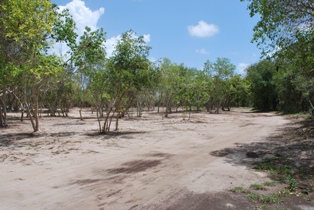 Long Bay Beach Beef Island BVI
I am proud to say that it has been approximately a year since I have been getting up early in the morning and go walking. I finally found a routine that I have not gotten bored with as yet. It is normally nice and cool, hardly any traffic on the road.


I live on an island called Tortola and we do not have to go very far to get to a beach. So about 30 minutes into my walk when I reach my turning point – which is a bridge linking Tortola to Beef Island where the airport is located – I pause for a few minutes and look to see the fishes. I get excited when I see a school of fish jumping. On a few occasions, I have seen a stingray.
Early this year I found a new location at Long Bay Beach Beef Island. The area has been cleared of all the shrubs and some trees and the area is now just gorgeous. I absolutely enjoy spending time in this area. It has allowed me to take my work out to another level. I have now started incorporating weights into my work outs as I have l learned that working out with weights is a great way to tone the body. I am also doing a bit of jogging. I had to put my jogging on hold a few months ago because I insured my knee while jogging but it is getting better now.
Walking has also given me the opportunity to be able to get ideas for my websites – this article you are reading is a good example.
I walk for good health - my job requires that I be seated for many hours so I decided that I need to be more active.