Walking After My Spinal Fusion!
by Bob Jarr
(Plymouth, WI, USA)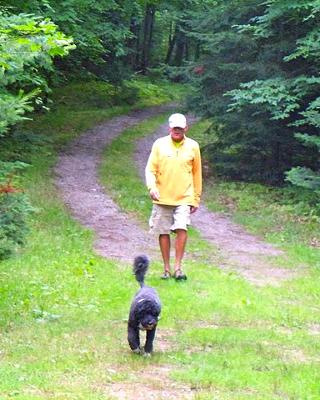 Bob & Naida 'Doing It!

A little over two years ago I had a a two-level spinal fusion (L4, L5, and S1) and I was told by the surgeon and physical therapist walking would be the best way to recover.




Unfortunately, I had torn up my left knee pretty badly when I was a senior in high school and have undergone 5 operations to repair the damage. So I didn't think a walking program would work, but I decided to try it anyway.

I started walking short distances with a walker, accompanied by our dog (Naida), 3 times a day. We live on a lake and it's a little over 3 miles all the way around. A week after my discharge from the hospital, with my walker and Naida, I made it all the way around. I've been a walker ever since.

A number of things have happened along the way.

My knee, which has no cartilage left in it and was destined for a replacement, has become stronger and no longer has any pain associated with it. My blood pressure (although still medicated) dropped to 116/68, I lost 25 lbs., and my wife is upset because Naida doesn't pay attention to her when I'm home!

We live in Wisconsin and my goal is to at least walk around the lake every day - no matter what the weather. I'm 64 years old and I typically walk about 4 mph, depending on who I meet and what Naida spots and keeps her interested.

I came across this site when I was online looking for walking shoes. Great job!


---
Share this page with your friends by clicking our "LIKE" button below. Thanks for sharing!
---