Walk For Weight Loss - My Everest
by Marylyn (SuperNan)
(Donvale, Melbourne, Australia)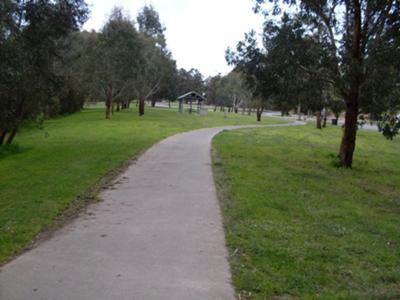 My Nature Walk
Hi Geoff & Yoko


Well it might not have been to the top of Mt Everest but to me it may have well been the same almost insurmountable goal.
The fact that I knew I had to start walking has become very obvious with almost 52 kilo of added mass (I am carrying around the equivalent of my youngest child on a daily basis!). I have looming Diabetes and heaven knows what other health problems … and sciatica in my right leg giving me hell. I had to make the decision.
But where could I go that was nearby, flat, sealed and safe to walk!
Think, think and attract it! Well I did.
I found my little piece of Heaven just 5 minutes drive from home.
Flat, sealed and safe with nature in all her awesome beauty. A track along beside the
Diamond Creek
River amongst the tall magnificent gum trees.
Parrots, bird life, wild ducks and little waterfalls to the left of me as I walk one way and then to the right of me as I return to my starting point 2.8 kms later! I am so proud of myself!
The track is measured so I am able to work out my steps for the distance. Wow what a bonus! It also extends over the other side of the road, following the river all the way to Eltham. Flat, sealed and ready for me to extend myself as I get into real fitness walking. A 7 km walk one way...wow!
I am so excited now, only been on it 3 times so far but I love the idea of
doing it
on a daily basis.
I am enjoying a great weight-loss program, a new lifestyle eating program that sees me doing 10,000 steps @ day. Not there yet but almost and I love how motivated I have become and I feel that
I can do it this time
!
I love walking, I love nature and to be given such a great gift right my own neighbourhood I feel so blessed.
Talk about
prosperity thinking
in a practical way. YES!