Why We're So Keen
On Keen Footwear!

We're really big fans of Keen Footwear, Keen Sandals, Keen Hiking Boots - all kinds of Keen Shoes. 

But not for what you might call the 'conventional' reasons. Yes, they're well made, look great, feel great. All that good stuff but ...
… you know how when you first discover some shoes, they sort of instantly shout out to you and say 'I'm THE One!'?
And others sort of sneak up and grow on you with time? Well Keen Footwear is sort of a 'sneaker upper' for us. And sneak up they have! And once you've been snucked by Keen there's just no going back!
Our Keens are pretty cool too! Snazzy looking, light, waterproof, great grip on wet surfaces, rubber sole.
We feel like we're really in tune with the ground with our Keens. Does that make any sense? Sort of like being in harmony with Mother Earth. It's something that's hard to explain. Sort of a special feeling you just have to experience for yourself.
A Little About Keen Footwear

Keen is a really 'young' shoe company started by Martin Keen and Rory Fuerst on the US west coast in 2003. Since then they've exploded on the scene.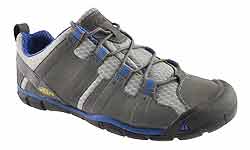 Clearly what Keen is doing resonates with a lot of folks. Even us 'not young' shoe buyers. But here we are. Lovin' them. Enjoying them and walking tall in them. Oh yeah - and hooked on them!
Have a look at their Hybrid Innovation stuff. It's pretty amazing what they're doing. Well worth a look when you have a minute. They have neat new materials they use, new ways of keeping your feet dry, interesting ways to keep your feet warm or cool depending on the season, protect your feet from hot ground - well the list is pretty long.
We do love how they got started too. These guys wanted to build a sport sandal for active people (aka water sandal, water shoe) with a big protective toe protector - sort of like a toe bumper. Their first shoe was called the Newport (still going strong). Up to then, it had never been done. And Martin was getting pretty weary of stubbing his toes all the time on the dock or on his boat deck.
That darn toe protection comes in real handy for we 'seasoned' types too. We've got some pretty rough sidewalks, cobblestone roads, 'interesting' curbs - that sore of thing where we walk now. Let's just say there has been days when we've been most thankful for the 'stubbier stopper' on our Keens!
If  you're like us and enjoy the convenience of online shopping just click here.
For your 10% Discount just enter the word "Shoebuy" in the coupon code box when you are checking out. Fast and Easy. Free Return Shipping (USA only) if they are not quite right for you. And you can now have International Shipping to 45 countries.

You can also get Keen shoes and sandals in a whole range of types. And you can get them in better shoe stores and sporting shoe stores in Canada, United States, UK, Austria, Belgium, France, Germany, Ireland, Italy, Holland and more.
Top of Why We're Keen on Keen Footwear 
Return to Choosing The Best Walking Shoes For You! 
---
Share this page with your friends by clicking our "LIKE" button below. Thanks for sharing!
---