Home Leaving
by Dami Roelse
(Ashland, Oregon)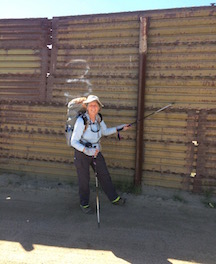 Home Leaving

"But do not ask me where I am going,
As I travel in this limitless world,
Where every step I take is my home."
(As translated in The Zen Poetry of Dōgen : Verses from the Mountain of Eterna Peace (1997) by Steven Heine, p. 61)




I touched the wall!
Before walking North from the Mexican border on the Pacific Crest Trail I wanted to touch the much debated WALL. The corrugated metal pieces rattle in the breeze, the brown and dirty yellow paint match the surroundings of desert sand and rock. Peek holes let me see the other side, more sand, rock and chaparral. It's an ugly wall, the number three —— a gang sign I recognize from my years of working in juvenile corrections —— hovers above my pack. Who are we to draw this wall in the sand? Who am I, white Northern-European woman, to be living on the freedom side of this wall? A side of the wall where I can walk without fear of being picked up, of being deported? In Tijuana I can even cross this line to the other side, get my teeth fixed at low cost, taking advantage of the lower standard of living on the other side. I have it all, freedom, health, money, a prospering family. I'm here at this border to walk a section of the trail that leads North to the Canadian border, 2650 miles away. I want to meet myself in the desert, the dry, rock strewn chaparral, with displays of naked bushes burned in wild fire, where occasional trees hide in narrow canyons along a flowing creek, or hug a cold ridge at higher elevation, waiting to sprout their leaves. It is spring, a long wet winter has soaked the ground and a great shout of wild flower color and perfume has burst out of the dry, sandy soil, moving North with me. At two miles an hour each day brings a new landscape, different blooms, far vistas of what is to come. Like an illegal crossing the border, I have my one set of clothes. My spare belongings comprise a shelter for the night, a warm sleeping bag, a pad, a small cookstove, water bottles and a filtration system, a warm jacket. I have food for a few days. My basic needs are met. I am the lucky one walking North.
When after eight days I arrive at a resource center for travelers, I can pitch my tent, take a bucket bath with warm water, wash my dusty, dirty clothes, connect with the virtual world via a free WiFi connection. A refuge for hikers. Hikers are the refugees of a fast moving, stress full world. For some the stress maybe the danger and abuse of a career, for others the stress maybe modern living that robs them of the connection with nature and natural rhythms. At the resource center volunteers offer free fruit, a hamburger. It is Sunday and many hikers are camped out, waiting for Monday when the post office will open and give them access to a re-supply package. The camp looks like a refugee camp, a temporary haven on a long journey toward personal freedom. People share experiences, talk about how far they are going, the blisters, knee and back pain, the loneliness they feel. They relish the moment of being clean, the ease of sitting in a soft chair for a few hours, the company of fellow hikers for the evening.
Hikers hike their own hike, walking to their own moment of freedom, be it in accomplishing the length of the trail, or in learning to live moment to moment, mile to mile, in sun and wind, cold and heat, at the mercy of the natural forces all around, lifted up by the exposure to the natural beauty, supported by breath and movement and dreamless sleep at the end of each day of physical exertion.
I walk and carry my little load. Dogen Zenji talks about the practice of "home leaving". I hike my yearly hike and do my practice of home leaving, trying to grasp the 63 possibilities of becoming "awake" in each minute, every 70 steps I take. This is as close as I'll ever come to understanding the plight of an illegal immigrant leaving home and walking to a better life, a refugee leaving family and country and walking to freedom and safety. When miles no longer matter, when I recognize that my legs are stronger than my mind on a long uphill, when I know my vulnerability alone in my little tent at night far away from any human contact, I surrender, I come home to the place. I let go of the need to be anywhere else and find my freedom.