Hi. Funny February Month. More discoveries!

Fun February!
Ah February! That funny month. Just past the worst of the winter, not quite really into spring although you can feel something in the air as the days lengthen.
It's also Heart Health month and a good time to revisit your fitness and health plan, simplify it and follow it! Do it frequently, make it a habit with plenty of fresh air and exercise.
Keep your heart fit and be happy with family and friends. Just Google 'Heart Health Month' in your area. Discover opportunites to get involved.
Another "Walking Discovery" aka
A 'Fun' Valentine's Day Of Discovery
Just to 'get you going' with your entry to our Walking Discovery contest let us share another of our recent 'walking discoveries' and hope it motivates you to share your experiences in our Walking Discovery Contest.
After our Valentine's Day yoga class and a light, nutritious lunch, a group of us set out to discover a hidden botanical rural garden we had heard about. Not your typical, commercial operation but a small rural area hidden away 'outside of town'.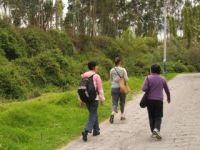 So with our hand-written instructions in hand, we headed out over cobblestone, mud and 'sorta' roads we had never traveled before. After a few false leads and arousing some local dogs on private property, we finaly arrived when we saw our first and only sign of the day.
As a side note cobblestone roads are not the easiest to walk on. We suggest shoes with a sturdy, 'beefier' sole that is thick enough to not let you feel all the stones - good trail running or hiking shoes or boots are suggested.
There were many medicinal plants, grains, flowers, aloe vera plants, passion fruit trees, fig trees, quinoa plants and much more. The gardens were organized into different zones with some signage.
You truly do get to see the plants in their wholly natural environment. We felt that there is real good potential for this garden and with a little more care and a good volunteer program, this very valuable collection of plants could do very well.
We finished off our 'adventure' by carrying on to our favourite organic market some distance away called Finca Orgánica y Centro Ecológico KURIKINDI operated by our friends Aya and Hector.
We got there just in time to get some good choices of fresh produce. The crowd this week was very large. This is a truly organic operation with no cultivation, fertilzation, watering etc. When it rains, things grow. It has been raining recently and the produce was amazing this week.
In all, a full, exhausting but very exhilerating day with a delightful new garden discovered and good friends revisited.
Your Turn!
Just a few weeks to go to get your entry into our Walking Discovery Contest with a very valuable $100 prize. Deadline is March 15, 2013. Get your story entered now.
More News!
Get ready for your hikng adventures this spring. Visit our newly updated page called Your Best Hiking Boot and Shoe.
You can also check out the new spring and summer shoes on our updated page called Our Best Rated Walking Shoes & Socks.
Enjoy!
Until next month