The 50Plus Fitness Walker - December 2009
Greetings <>. You've received this email because you've subscribed to The 50 Plus Fitness-Walker newsletter delivered periodically from 50Plus Fitness Walking. Written specifically just for us 'more seasoned' types on the 'golden' side of 50. Enjoy!


Christmas Fun & Walking...They Really Do Go Together!
Feature Article
Feliz Navidad, Joyeux Noel, Merry Christmas.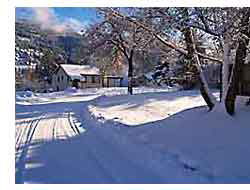 Did you know you can still focus on and enjoy Christmas without losing sight of your winter walking fun?

There's no use fighting the realities of Christmas with all the gift-buying, parties and enticing moments that can get you off track from keeping your walking program going.

Instead, let's make this the most memorable Christmas, by not only participating in the festivities but by also walking to and from your favorite shops and carry home what we bought. Let's all plan to attend special Christmas programs and concerts. Walk there if you can. Or at least park several blocks away and walk. If you are blessed enough to live in a 'real' winter area with snow, crisp air, the peace and beauty of winter at Christmas, your walk become that much more enjoyable.

Walk around your neighborhood (and others) and see the Christmas lights in all their splendor. You might even want to offer some cookies and treats to the shut-ins nearby and of course - walk there!. Get a group of friends and family and go to a senior's centre for some good old fashioned Christmas caroling. That will get your Christmas spirit pumping. Maybe it will even get your toes tapping.

When people drop by during the holiday season, suggest going for a walk, especially after dinner. It is a wonderful way to visit.

The most important "walk" for you though, during Christmas time, is to know when to walk away from overindulging! But don't even think of not trying some "no-no" foods. You deserve to try special treats that someone has so lovingly made for you. Just try not to over-do it!

Are you getting the message of the importance of walking? Quite simply... keep fit, happy and healthy, and wisdom will just come naturally. This is not just for the holiday season, but for the entire year to follow.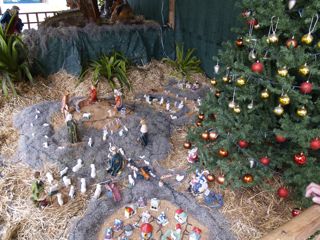 We 50 plus'ers have a lot of wonderful memories of Christmas past. Let's exchange stories with folks we meet on the street, and bring smiles to everyone we meet.
Of course that also means that by now, we also know how to treasure each new Christmas as it comes our way too! This picture is one example of a new memory treasure for us ... a Nativity Scene, Ecuadorian Style. Truly beautiful.
Merry Christmas everyone, 50 plus or not. Have your best Christmas ever!
And Now ... A Special Request
Our friend Bob is at it again. This time he tells us his latest success with diabetes control, weight loss and a medication free future. He also has an interesting idea we would love your feedback on. Read about his suggestion for a Fitness Walking Program book. Let us know what you think either by adding your comments to his story there or add your own story here if you prefer.
We look forward to hearing from you
Tip Of The Month
Enjoy and celebrate Christmas to the max. Remember when to walk away from too much food and walk to wherever you can in this very special time of year.

Your walking partners,
Yoko and Geoff

PS - Hmmm. Maybe you've gotten a little fuzzy on why walking is so gosh darn good for you? Drop by our Benefits of Walking page again!
PPS - Remember that we welcome your walking stories, hiking tales and tall tales too! Share yours with us, be published on your very own web page and maybe even win some neat prizes!
PPS - Feel free to pass a copy of this newsletter on to your friends, They might enjoy it too!