Hi <>, we hope you enjoy our December issue of the 50 Plus Fitness Walker. Lots of good stuff about Winter Nordic Pole Walking. It's great!

Ah Winter! Isn't it great? Maybe you're looking forward to skiing - downhill or cross country? Great! More power to you!
We remember how great that feels. Fresh, sweet air, sun on our face, fresh, clean snow all around. Exhilarating!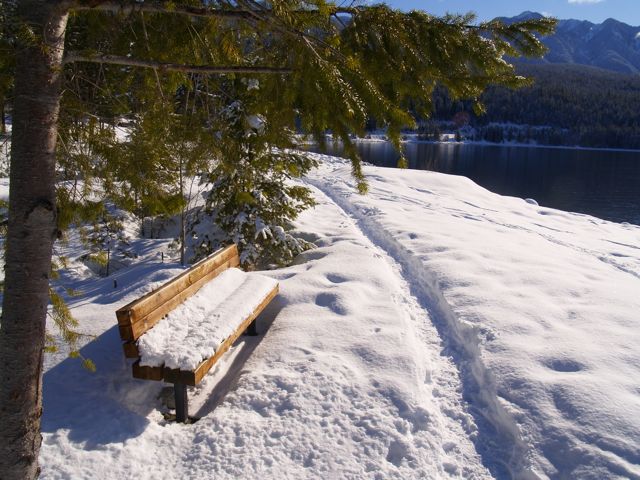 Once we get over the "50 Plus" hump though (in our case well over!) we focus more on Nordic Pole Walking. Something about knowing our limits! :-) Same benefits. A little less wear and tear on the olde bod.

NOTE: Just to get semantics out of the way, when we say Nordic Walking, we're talking about Nordic Walking, Nordic Pole Walking and Winter Nordic Walking. All on the same playing field. Some of those fields might just be a little snowier than others :-)

Winter Nordic Walking…

is a great way to make the winter months fly by and indulge ourselves in fun-filled activities with our friends and family.

We all know that "old man winter" will eventually move on. In the meantime why not stay physically active and revel in the winter conditions! There are always solutions to help you enjoy the outdoors in winter and feel safe and secure while you're doing it.

You may feel a bit unstable at first as winter sets in. The fear of falling and injuring yourself takes over. Even attempting a short walk seems like it's out of your reach. Nordic Pole Walking can help. Because you're walking with poles, they will help you keep balanced and upright. It's like having a friend helping you develop your rhythmic stride, making this an ideal winter outdoor activity. It's fun' it's catchy and good for you!

Read a whole lot more about Nordic Pole Walking on our site for the full story.

Next comes good footwear. You have many choices for this part of the fun. Check out the full story on our Nordic Walking Shoes page. Discover a recent and rather surprising discovery we just made about these shoes there too!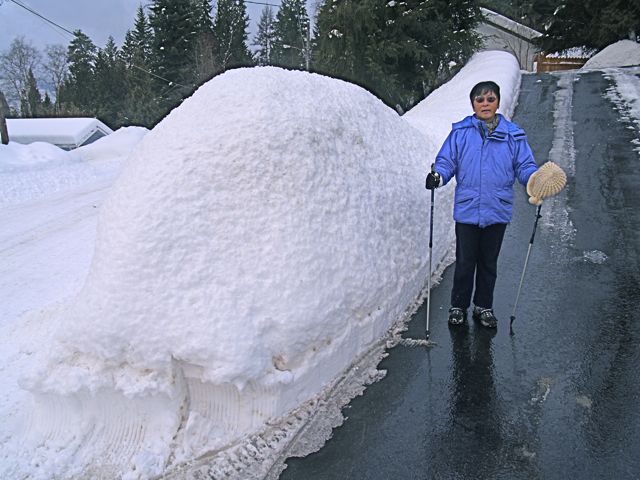 So now you've gotten the balance thing under control. You know about good walking shoes. The next biggie is good traction. We love a device called Yaktrax. In this picture Yoko is wearing them at the end of one of our walks. Great for safety and even better for walking up steep driveways :-)

Other stuff you should consider to really max out your winter walking fun includes layered clothing, gloves, head gear and sunglasses. You can find a lot more details here on our Winter Wonderland Walking page.

Indoor Nordic Walking…

OK - so maybe there's one or two of you that haven't quite embraced this outdoor winter walking stuff yet like us Crazy Canucks.

For you we also have solutions! Keep going with nordic pole walking all year around, no matter what kind of weather "Mother Nature" throws at you.

If outdoor winter activities is simply 'not your thing' then consider joining a local community group. You may be able to do indoor walking in your community complex. If they're large enough or there aren't too many folks, then you still may be able to use your Nordic Walking Poles there too.

Many shopping centres also support "Mall Walking" programs. Some even provide instructors to help you with your Nordic Walking technique. Just cruise your local malls and check out the various bulletin boards in them. Probably a good idea to put your rubber tips back on your poles and pick days when the mall is not too crowded though!

You'll meet many like-minded people there who've come to know that keeping fit and healthy can also be fun even on the coldest days.

Been following our fitness walking programs for awhile? Think back to December 2009 and notice how much better you feel now. Let's push a bit harder and make next year the best year yet!

Recent Additions

Just in case you missed it there have been some recent additions to our site you may find of value

We have added more information to our Arthritis Shoes page to help find you find those sometimes difficult to get shoes.

And by popular demand we've added a whole page of links to Our Favourite Walking Shoes. This page now also includes links to some great winter boots too. One little hint here - if you want to easily see more shoes from that maker than what we suggest, just type in the name of the shoe maker in the Search Field near the top left of the page. Suddenly - 100's more shoes :-)

Finally we are happy to announce that our Hiking Tales, Walking Stories & Tall Tales story telling section is now rated #1 on all the major search engines (Google, Yahoo, Bing & Ask) in it's category. What better way to make Christmas even more special than sharing your stories here and with your family and friends.

Have a wonderful, safe and happy holiday season.

Your walking partners,

Yoko and Geoff


PS - Getting a little fuzzy on why walking is so gosh darn good for you? Drop by our Benefits of Walking page again!

PPS - Feel free to pass a copy of this newsletter on to your friends, They might enjoy it too!