The 50Plus Fitness Walker - June 2009
Greetings <>. You've received this email because you've subscribed to The 50 Plus Fitness-Walker newsletter delivered periodically from 50Plus Fitness Walking. Written specifically just for us 'more seasoned' types on the 'golden' side of 50. Enjoy!

"Walking Adventures in Ecuador"
Feature Article
Ecuador! What a wonderful country to take a walking adventure in. We landed in Quito, the almost 500 year old capital city that sits at an elevation of 9,300 feet in the Andes. I must admit that even the thought of this at first was quite challenging. We know that some react to high elevation and others are not bothered at all by it.

I felt a bit unsteady at first, but not too bad. The pressure on my sinuses and eyes were a bit uncomfortable. To prepare I rested well before the flight, knowing that I might be more susceptible to the change in altitude than Geoff is. (It's always a good idea to ask your doctor in advance how to deal with acclimatizing to higher elevations).

We took time to acclimatize for about a week before getting 'serious' about walking. We found it best to keep hydrated, walk slowly and build up distance and speed each day. Mostly we tended to tire a bit more quickly, especially going up inclines that would not normally affect us.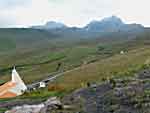 Once we felt more like ourselves, we ventured out to explore Mt. Pichincha, the volcano that overlooks the city of Quito. You travel by cable car to get to the top where the view from 13,500 feet is absolutely incredible. Just breathtaking (figuratively and literally!) - especially when you see how quickly the mists and clouds come and go.
Paths and walks can take you to many different vantage points and levels. This really helps for folks with varying walking abilities, energy and time. There are also trails going right up to the volcano itself which is about a mile or so further back and peaks at about 15,500 feet. (That adventure we will leave to next time!)

Our slow stroll was exhilarating! We discovered a couple of small cafés being built amongst the wildflowers. The lupins with their rich and vibrant blue color were wonderful. There's even a little church near the top of the mountain for people to say "thank you" in their own way. Mt. Pichincha is truly a very special and peaceful place. I felt a surge of energy as we descended from our special walking adventure there.

"Great Idea"

Walking by water during the summer is appealing to many walkers. There are a few things in keep in mind to avoid needless problems.

Walking by water requires more care with your footing. Wet soles on your walking shoes can make some of them slippery. Choose footwear with rubber sole for added stability and traction. Having shoes that are waterproof goes without saying. Check to see if they stand up around salt water too if that's in your plans.

Water shoes by Keen Footwear
are my favorite. Designed by a man who spent a lot of time on the boat, most of the models have a built in toe protector - no more pain stubbing your toes! Great traction, easily washable and pretty spiffy looking too.
*Tip of the Month - Walking in Groups"
Walking with a group is a great way for older folks to meet like-minded people and enjoy some great outdoor hikes and walks. Here are a few tips to keep in mind as you enjoy your favorite summer outing.
What are the group goals"? Knowing this will make the walk or hike more doable. Make sure you know what to expect. Are you able to walk on the terrain that's picked for this hike or walk? Is the distance OK for you? Are you up to walking 2 - 3 hours? It's always a good idea to have a sense of this so you are prepared and help each other out.
Follow Good Group Etiquette makes walking in a group a lot more fun. Respect each other and understand that everyone has their own level of walking ability. We can accomplish the walk we set out to do and have fun doing it by observing the following:
"Stay together." Wait for the back of the group to catch up, unless instructed otherwise. Also good to take a rest and allow these walkers time to catch their breath. It wouldn't hurt to do a head count every so often to make sure someone didn't stray off on their own.
Be considerate. Chat as you walk, but be considerate. Some people may prefer silence. An advantage of a big group is that you are likely to meet people who have similar interests as you do.
Is taking your dog a good idea? Some people might not want a dog's company. If you are walking in a wilderness area, it is often best to leave your dog at home. You don't want to attract animals of the forest. If you prefer to take your dog, make sure it works with others.
*Quote of the Month"
"Motivation is what gets you started. Habit is what keeps you going" - Jim Ryunkl, American Athlete - 1947
That's all for this month. Enjoy your walk everyday and keep fit for your health's sake.
Do you have suggestions or comments on our newsletter? A topic of special interest to you? Information you would like to share with our subscribers? Do get in touch with us and let us know. We'd love to hear from you!
See you in July when we'll talk about the different types & styles of walking. Maybe a few more glimpses of some wonderful places in the Andes too!

Your walking partners,
Yoko and Geoff

PS - Hmmm. Maybe you've gotten a little fuzzy on why walking is so gosh darn good for you? Drop by our Benefits of Walking page again!
PPS - Remember that we welcome your walking stories, hiking tales and tall tales too! Share yours with us, be published on your very own web page and maybe even win some neat prizes!
PPS - Feel free to pass a copy of this newsletter on to your friends, They might enjoy it too!