The 50Plus Fitness Walker - July 2009
Greetings <>. You've received this email because you've subscribed to The 50 Plus Fitness-Walker newsletter delivered periodically from 50Plus Fitness Walking. Written specifically just for us 'more seasoned' types on the 'golden' side of 50. Enjoy!


"First Steps"
Feature Article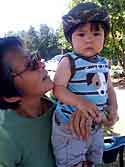 Something a little different for you this month! You no doubt can relate to this story!
I just got back from attending my grandson's very first birthday. What a joy he is! The picnic party was fabulous with little people running about and playing. Everyone was having a great time in races, obstacle courses and games.
However, the most exciting event was my little grandson Sebastian taking his very first walking steps just two days before! He was a bit shaky, but by the time I left for home, he was walking clear across two rooms.

Imagine...the excitement of those first few steps that will carry him through his whole life. The adventure of endless experiences that will teach him lessons about making choices on where to go and what to do.

His determination is amazing! He's constantly getting right back up on his feet, no matter how many times, he falls down! He battles to stay balanced and get to his destination, no matter what. Maybe there's a message for us in there somewhere too.

When Sebastian gets to the "golden" side of 50, may he continue to feel the excitement each and everyday that he is feeling at this time.

Walking.....it's for everyone! Enjoy your summer.

Great Idea - Country Walking!

Summer time is a great time to consider walking in the countryside. Look for local hiking trails and paths that are listed in your local community boards.

It's a great idea too to keep note of where you can walk. You may want to go back there again some day,. if you're venturing out in the wilderness, be mindful of wildlife in your area. Do pay attention also to any special gear and footwear that will make your adventures more enjoyable. Please keep safety in mind at all times too. In the wilderness remember you are the guest in someone else's home.

Have a safe and adventuresome walking summer.

Tip Of The Month

If you are a seasoned walker, open the door for others and encourage them to walk for fun and fitness. Maybe suggest they join you on a walk too. Walking brings out the best in people. It's something everyone can do.

Special Note

We too will be doing a bit more 'walking' than normal this summer as our journey takes us from North America to our new home in Ecuador in South America. Look forward to seeing our next newsletter in mid fall this year as we get settled

You of course can continue to contact us through our website. We will be responding as often as we can along the way

Until then, we remain your walking partners,

Your walking partners,

Yoko and Geoff


PS - Hmmm. Maybe you've gotten a little fuzzy on why walking is so gosh darn good for you? Drop by our Benefits of Walking page again!

PPS - Remember that we welcome your walking stories, hiking tales and tall tales too! Share yours with us, be published on your very own web page and maybe even win some neat prizes!

PPS - Feel free to pass a copy of this newsletter on to your friends, They might enjoy it too!