Hi <>. Time to take pause and celebrate Heart Health Month and reflect on your walking accomplishments.

Heart Healthy Lifestyle!
This month let's remember what February means to a lot to us walkers and hikers.
It's Heart Health Month!

We're reminded that the "good life" lifestyle that we choose helps us enjoy the best quality of life everyday. Walking helps keep our hearts healthy!
It's a time when we look back to review what we've accomplished to help us enjoy life with renewed energy.
Aren't you glad that you've persevered to walk daily, get fit and be energized? You can look ahead to another season of your favourite outdoor recreation!
When you walk for fitness and health, you feel that surge of energy to keep on going.
There are many great ideas to have fun and stay ahead of the game by eating right and cooking foods that are nutritious and good for the heart. Have a look at this article by Jeanie Learch Davis all about 25 Top Healthy Foods.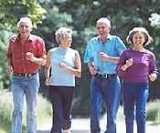 When you eat right, drink 6 to 8 glasses of water daily, walk with friends, neighbours and family on your walks and fun-filled activities, you'll see it makes a huge difference on how your heart is treated.
Perhaps the old saying, "Eat, drink (water!) and be merry" might be a great way to summarize this.
Look at how you feel today. Remember how you felt last month. If you feel better now - good for you!
Here are a couple more great links with good information for you for Heart Health Month.
American Heart Association and
Some Extra Special Little Bits For You This Month
First here's a great list of *'apps' for your laptop, iPad or Mobile Device that can help you with your own personal Health, Fitness & Nutrition.
*In case you haven't quite gotten into the 'APP' thing, don't worry. All it means if plain english is 'application' or program. Check them out. We love the iPad ones ourselves.
and for those of you who are starting to get the 'springtime itch' here's a link to our friends at The Walking Connection with some great Adventure Walking Events coming up this year.
Remember we love for you to share your stories, adventures and accomplishments with all of us. We love to hear from you!
Until next month,, your walking partners
Yoko & Geoff