Hi. A Happy New Walking Year to You and - A New Contest!

Happy New Year to all our faithful readers and friends.
This month a bit about our holiday with family, a very inspirational story for you and - a NEW CONTEST!
Our Christmas
Did you all have a wonderful holiday season? We certainly hope so.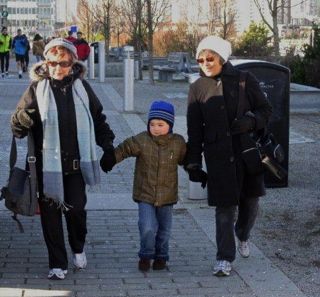 We're spending our holiday season visiting with family and friends in Canada and of course making sure we get in our daily walks!
While it's only been a few years since we 'enjoyed' Canadian winters, I must say it's been a surprise to learn how much more the cold seems to affect us now. No problem though, just put on the appropriate layers of clothing to suit the weather and we are ready to go. Even better, after a few days of walking in this 'fresh' air our ability to cope with the cold is right back up to where it was.
One of the beauties of walking in a large urban centre is that we've been able not only to walk longer but also be able to discover a whole bunch of really neat new places and things along the way, Things we likely would miss if we were driving.
One toughie has been adjusting to the amount of darkness! Rather than the 12 hours of daylight we get year round, there is only about 6-7 hours here. Being able to spend quality time with with our family and engage in fun outdoor group activities though warms us all up very quickly :-)
(Above family photos courtesy of Tami Verklan)
Inspiration - Walking Designs in the Snow
Artist Simon Beck can no longer run because of foot problems. Now to get his exercise he works 5 to 9 hours in the snow EACH DAY!. Plodding about on level snow is the least painful way of getting his exercise.
An inspirational message for everyone to realize that determination and challenges can sometimes bring miracles. No matter what the circumstances, know that it can be within us all to keep walking, if we set our minds to it.
Please enjoy this spectacular 'art from the heart'.
Walking Designs In The Snow
PS - the walking design pictured above is about 2 hectares wide!
The Walking Discovery sur-PRIZE Contest
It's simple. It's easy. And the prize is special -
6 Pair Of Thorlos Socks of your choice ($100 value)
All you have to do is share a special surprise or discovery you've made because of your walking.
It can be special to you, funny, moving, silly, spiritual, uplifting or just plain out of the ordinary. Whatever has made an impact on you.
Send us your pictures/video and write a very brief description (200 words or less) of what you discovered The winner will have a special Discovery page sharing your discovery with us all. Just fill out our Walking Discovery Contest form.
Deadline is March 15, 2013. Great good luck to you!
Our Inspiration
Just to help you get your creative 'discovery' juices flowing here is one of ours (and the inspiration behind the Discovery contest).
While we were on vacation and out for a walk in a poorer part of town we came across a local diner and stopped in for a meal. The food was good, the prices reasonable and the people were just incredibly friendly and helpful. The spirit and mood of the place is just plain infectiously positive. So far not too much out of the ordinary.
What makes this discovery so much more special though is what we found as we explored this place more. It turns out the owner is dedicated to helping the homeless people in his neighbourhood in many ways. He employs several 'street' people who otherwise would have trouble getting a job,
He provides low cost meals on a street window. He makes close to 500 extra meals a day that are sent to other hotels in this poor area of town to help feed more homeless people. He donates a majority of his profits to helping out others and has created alliances with several corporate partners to do the same,
Having made this discovery, I think we floated rather than walked home when we left.
All the best,
Your partners in walking,
Yoko & Geoff